Jennifer! It's Saturday, March 5, 2016.
You know what that means.
It's a Bob's Burgers birthday. Because what else? (I mean besides Studio Ghibli, BBC, Psych, Community, Avengers, Taylor Swift, and fiction siblings) And anyway, who better to show us a good time than the Belcher family themselves?
Or more generally embarassing? Let's get straight to today's program, Jenzie.
You're turning twenty-three today!
What a high-quality age to be. Plus, you've still got seven whole years left on your 30-before-30 list, and if I know anyone who specializes in stuffing as much intention and joy into a set amount of time, it's you. So just keep being that, you over-achieving nerd.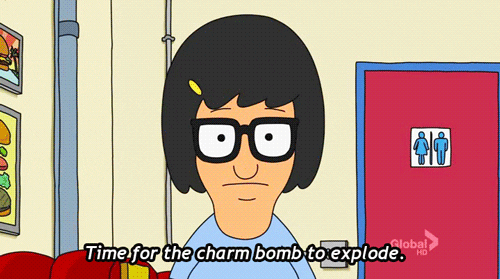 By the way, I don't want to hear any of your garbage about 23 being a boring age, okay? Every notch added to the amount of years you've been alive is an actual party and anyway, there are plenty of songs about being your age, even now that you're no longer feeling twenty-two. (Everything will [still] be alright if you keep me next to you)
Whether we're road tripping, watching Doctor Who on Thursday nights, or planning our debut Thanksgiving album with dad, it's always a good time.
And I mean now??? Now we're in New York together????? I love this. Let's do this all the time. You have such an adventurous spirit, and you're always hopping to another cool idea. Sorry if the fam and I overload you with snapchats and texts about tulips and keytars whenever you're away. I know you probably hope that we take your spells away from us with quiet dignity and without any residual clinginess but…
No matter what you do on your adventures, keep your eyes on what's important, and live for something bigger than yourself. We aren't each of us responsible for our existence, but we're 100% responsible for our lives, and the way our lives touch others. We have to seize every moment and live it to the fullest, because we never know what's going to happen next.
Unsurprisingly, Gene speaks the truth. Just remember nothing you'll go through is truly hopeless. No burden you're given cannot be overcome (but complaining never hurt anyone either).
And never doubt that you are loved. (of course, anyone you've ever met will tell you that) Thanks for always being an awesome sibling and and friend to your super cute sisters.
I know you always say you're Louise, so thank you for somehow using your evil powers for the better of the people around you. But as Tina, I am ready to dispense some wisdom to you in your twenty-third year.
Keep yourself safe by keeping yourself smart.
Never be afraid of sincerity.
Take special time to take care of the things that are important to you.
(On that note, always make sure your priorities are straight.)
Don't be afraid to try new things!
You know, actually, let me try that again. Don't be afraid to try new things!
Perfect.
And know when to treat yourself. Pro Tip: Today. Treat yourself today.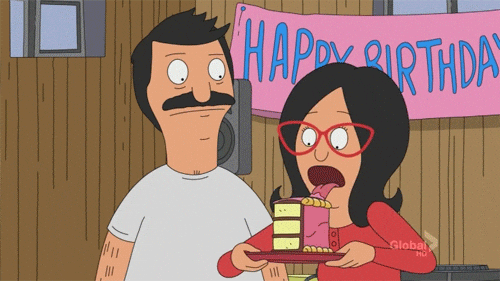 I hope this year is one of the best for you, but still only one in a very long line of ever-improving years. Happy birthday Jennifer, and God bless! It's gonna be a good day whether you like it or not, dang it. We have a SCHEDULE to follow.