One week ago,  the very foundations of California were shaken by a single, unified fan scream.
If you live anywhere near an internet connection, I bet that you felt it too.
San Diego Comic-Con 2014.
Seeing as there's no need to drop the ball on nerd-knowledge just because I was not present, I've compiled a list of my favorite bits from the convention. Therefore? Coming to you from that room of dreams, Hall H, here is some of the best of SDCC 2014.
Chris Hardwick, Crown Prince of the nerds (and the person you wish you were), took the selfie to end all selfies with the one and only DC trinity.
You're looking at Batman, Superman, and Wonder Woman posing for a picture taken by Marty McFly.
What a time to be alive.
The Avengers: Age of Ultron panel featured a gloriously skilled and surprisingly long table of Avengers, and the angels cheered (though their voices were obscured by those of the hyperventilating fans in the crowd below).
Notable events included Chris Hemsworth's announcement of intent to turn into the female Thor in an upcoming adaption ("I don't want to jinx it, but this might be my oscar"), Robert Downey Jr's gift of roses to the audience and to the lady cast members, and Josh Brolin (or as we know him, Thanos) making a surprise appearance for the sole purpose of fanfare and eating one of Downey's proffered roses.
All very normal things.
The Agents of SHIELD panel, (a show which outgrew its name in no more than twenty-two episodes)graced us all by releasing a gag reel.
And later, still during the AoS panel, a teaser was shown (not available unless you're a level seven agent) in which it was revealed that a Bobbi Morse was going to be joining the SHIELD roster.
Bobbi Morse? you ask. Wait, Mockingbird? You continue, standing up, your voice getting more frantic and excited. Sweet baby Moses, are you kidding me right now? you scream into the late afternoon sun as you spontaneously sprout wings and take off, startling your friends and family. Hawkeye crossovers aheadddd is the last thing your loved ones hear as you disappear over the horizon.
I know right I'm so excited too
Since you couldn't be there, Mark Ruffalo took the liberty of acting just like you would have in reaction to the range of celebrities present.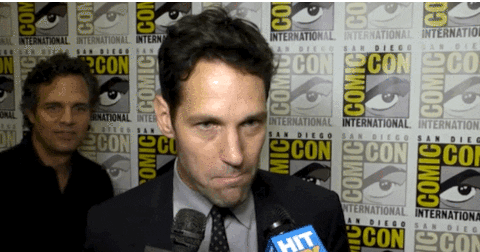 Living legend.
And, though it wasn't officially related to the world's biggest geek-fest, one has to question its convenient timing –
Test footage leaked for that movie you want so badly.
"Test footage" people keep reminding us. "As in – not an actual movie. Not yet. Maybe not ever. This is test footage."
To which, of course, fans collectively replied, "I can't hear you," before turning back to our friends and screaming "DEADPOOL" over and over again. All that leaked footage has largely been reclaimed by Fox on copyright grounds, but considering that few things are ever scrubbed form the internet, there are still a couple of places you can look. (Warnings: Strong language, and, hey, it's Deadpool: violence)
Such a long panel, but the highlights as far as I am concerned involved Gollum impressions from Andy Serkis, an expression of interest in a LOTR-flavored museum with original props, and an analysis of how surprisingly attractive Elf ears can be (as if that was news to anyone).
As per the event, there were questions for the panelists: "Where would you take Smaug at the Comic-Con?" asked one fan. Benedict Cumberbatch, ever the charmingly insulting gentleman, made a face and replied "Probably Hall H. I don't think he'd fit in anywhere else."
I feel like one or two people might want to disagree, but considering that a good chunk of people probably dressed up as the menacing dragon, it seems a fair enough remark.
It takes all kinds at SDCC, so obviously there was much more to the convention; but these have been the parts that got me in the send-all-caps-texts-to-everyone-in-your-contact-list mood.
Pretty apparently, I didn't make it this year. Maybe you didn't either, if you felt compelled to come here to learn these things.
We didn't make it this time. That's okay. Not even Joss Whedon went this year. It's okay to skip every now and then.
But let's not make it a habit.
See you next year, fanpeople.