Dear Jen, These posts are all about being timely, right? As far as both the date and whatever it is you're currently loving? Well, we do our best.
It's Monday, the fifth of March, 2018!
Today, you're 25 years old!!
Happy birthday!!!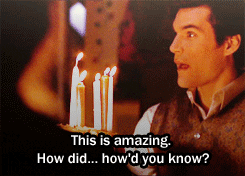 Um, how could I forget?
Hey! Check? You? Out? What a birthday girl.
Honestly, you deserve the best birthday. I hope it's everything you love, happening one thing right after another. Some kind of a shindig.
Turning twenty-five is a big deal! It's a good strong number. And, as we've discussed, your frontal lobe is now fully developed, so you know what that means.
So sick.
You're a quarter of a century old now, kiddo. But don't give me any of that trash about being old or not being able to learn as much as before you hit that 25-year mark. I can't use that "damn dirty lies" gif from Bob's Burger's due to the cosmic laws of our birthday posts, but still, that mindset is, in fact, a damn dirty lie. It's deceiving.
And by the way, shout-out to that weirdo I know who?? snapchatted me??? while she was doing pre-algebra????? for fun?????????
Nothing. There's nothing you can't do.
Oh and also
Here's to a new year of podcast referrals, care packages, HQ play-alongs, and lighthouse pictures. I wouldn't have you any other way, unless maybe you were a little closer.
I love you so much Jenzie! Happy birthday.